Arden Jones Profile – Live Debut Preview
Arden Jones is a name you're going to want to know. Put it in your Notes app, write it down on a sticky note and put it on your bathroom mirror or get it tattooed on your face because trust me, you're gonna want to remember Arden Jones. Sounding a bit like if Dominic Fike and Mac Miller had a baby, Jones effortlessly fuses alternative with hip hop and pairs it with lush and layered instrumentation in a sound that is unique and wholly his own. According to Jones, he was heavily inspired by Mac Miller's final two albums "Swimming" and "Circles" and the fusion of genres that exists within Miller's discography and sought to recreate that within his own work.
"I just wanted to be able to blend the two and have hip hop fans be into those more alternative songs and alternative fans be into the hip hop songs because there's aspects of both," Jones said of his work.
Growing up surrounded by goats, chickens and horses in Marin County, just across the bridge from San Francisco, Jones said the culture of the Bay Area heavily influenced him. Early on, he listened to a lot of local bluegrass, folk and alternative artists but as he got older, Jones began to explore the local hip hop scene, getting into artists like SOB X RBE and Shoreline Mafia. The influence of so many disparate styles of music can be heard in Jones's own genre bending style.
Coming from a family of performers and artists, Jones comes by his musical talent honestly. His father was the lead singer of a band in college and his mother is a writer and a poet. According to Jones, he was inspired by his sisters' love of singing and playing the piano to begin performing. He also began learning the mandolin in third grade which eventually led to the guitar and bass. Jones can also play the ukulele. When he was 11, Jones began writing songs, writing his first song to perform at a family wedding. A few years later, Jones began releasing his music on Soundcloud, a process he described as addicting.
"Writing music was what I did for fun, it never felt like work or something I was forcing myself to do. I was just super excited to be able to call something original and say it was mine and send my friends the link to a song I created and them hearing it," Jones said.
Jones continued to write music throughout high school before eventually deciding to attend Chapman University's Dodge College for film school, majoring in Public Relations and advertising. He initially wanted to make music videos or commercials. After about a year in school, Jones dropped out to pursue music but still sees film as a means of expressing himself. It was after his first single "Parallel Parking" blew up on TikTok earlier this year, that Jones really began to see that music could be a career and not just a hobby and began to look outside of film.
It was this first track that changed Jones's life. After initially posting the song on TikTok, it began to gain traction and eventually was racking up 50,000 views per day, according to Jones. It was an exhilarating ride that gave Jones an enormous boost of confidence and the validation that he was on the right path.
"Also, just the sense of empowerment because I was like I'm kind of right about this. There's a lot of people who are like 'That's a risky career. I wouldn't put too much time into that. I'd maybe go to class right now instead of making that song.' In the back of my head I was like 'Wait I think I can do this.' For a really long time, and then when it finally happened it's like all this confirmation, all this wind at my back just telling me to keep going. So that gave me confidence in my craft for sure," Jones said.
Written by Jones and produced by Ferro from vnclm_, "Parallel Parking" is a joyous fusion of alternative melodies with soft hip hop vocals with some Motown and funk vibes thrown in for good measure. The track is a moment when Jones's unique voice really shines through accentuated by the rich and layered production with the throwback keys and hip hop effects. "Parallel Parking" is absolutely electrifying debut from an artist who has only gotten markedly better with his subsequent releases "roll the dice" and "rollercoaster."
Jones said that when writing he'll devise a melody first and then fit the lyrics in like pieces of a jigsaw puzzle. He also said that he doesn't really write about specific experiences or people but rather an amalgamation and sometimes it's about things that haven't happened to him at all.
"I write a lot of songs about things that never happened to me, just I'm telling a story about something that could happen to anybody else," Jones said.
In addition to music, Jones is an avid and passionate surfer as even the most cursory of glances at his Instagram will tell you. He grew up surfing and said he spent 90 percent of his days in high school at the beach. Nowadays, Jones said he surfs because he enjoys the exercise, the time in the ocean and having a hobby to constantly work on.
Up next, Jones plans on releasing a lot more new music and to start performing. His debut performance will be at Bar Lubitsch on August 5.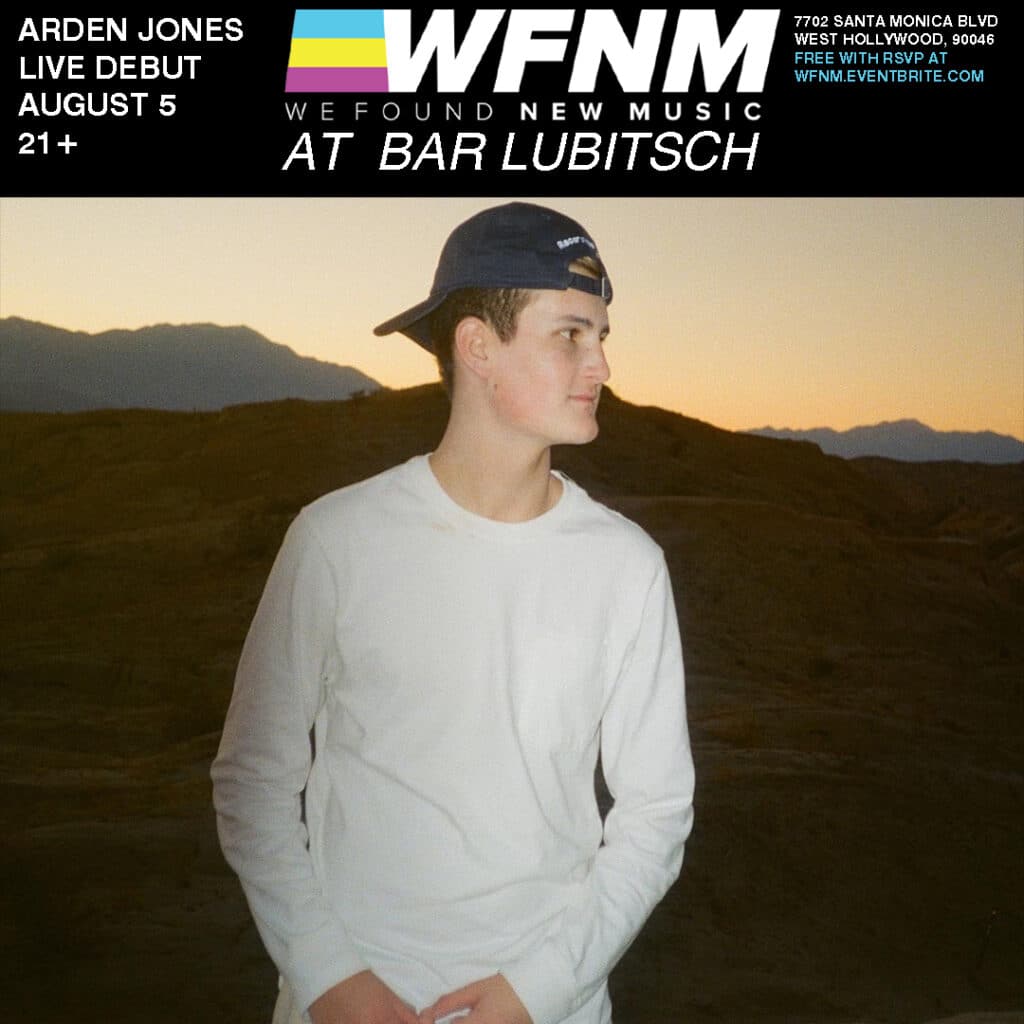 "I just want to let the world know who I am and to get to know the people who are behind me because that's the whole reason I'm doing all this, it's for my voice to be heard and for people to enjoy it," Jones said.
Be sure to stream "Parallel Parking," "roll the dice" and "rollercoaster" out now and we can't wait to see what this dynamic new artist does next.
In addition, check out our WFNM radio interview with Arden Jones