[PREMIERE] Cuffed Up – Double A-Side "Mother/Father" and "Small Town Kid"
LA-based post-punk band Cuffed Up are out with their debut Double A-Side "Mother/ Father" and "Small Town Kid." Comprised of Ralph Torrefranca (guitar/vocals), Sapphire Jewell (guitar/ vocals), Vic Ordonez (bass) and Joe Liptock (drums), Cuffed Up arrive on the LA DIY scene with a sound they describe as "sad-punk." This is a bit of a misnomer as their music is too upbeat and aggressive to be described as "sad." It's more "punk with high functioning depression" because while upbeat, the subject matter tackles isolation, disaffection and a love/hate relationship with living in LA. Both tracks were engineered by Mike Pepe and Kenneth Tye, mixed by Mike Pepe and mastered by Dave Harris.
"Mother/ Father" begins with Sonic Youth-esque tinny drums from Liptock and driving guitar part which echoes back to a more classic rock sound. The juxtaposition of these two elements gives the track a brightness and intelligence to it. Towards the end, Jewell busts out a guitar solo that has a beautiful Clapton-like pain and soulfulness to it, combined with a post-punk sensibility. The vocals equally show off both Jewell and Torrefranca's voices that combine in a way that is evocative of the fun and irreverence of The B52s. The track tells the story of someone who has been raised in a bubble, to their detriment, and subsequently views the world through rose colored glasses. According to Torrefranca, the song is a commentary on the process of opening your eyes up to the world and seeing things more realistically.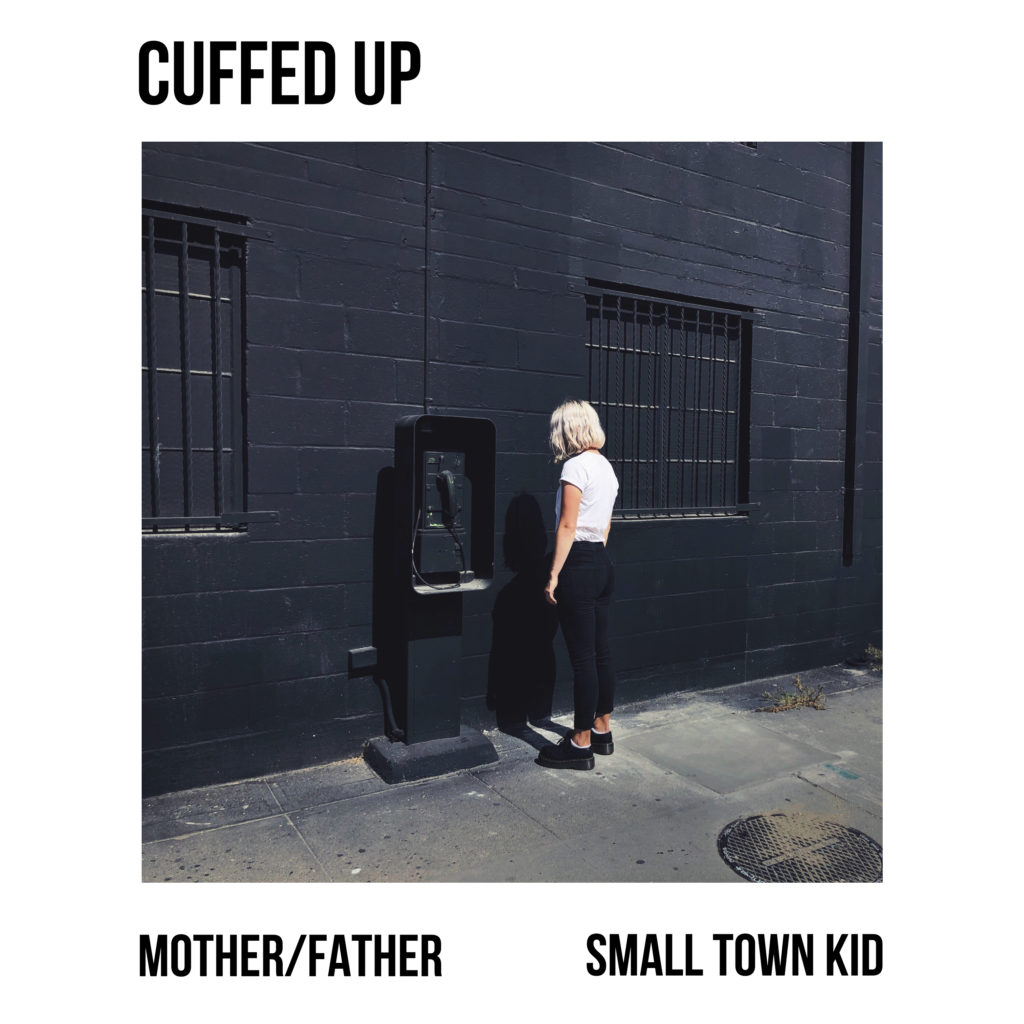 "Small Town Kid" also deals with the culture clash that can occur when moving to LA. Based on Torrefranca's experience with an arrogant barista who affected a "too cool for school" style apathy. Based on that idea, the track is an examination of ego, false dreams of grandiosity and the version of ourselves that we present to the world. The sound of it is more anchored in a CBGB's era East Coast punk with Jewell's vocals sounding like a grittier, less polished early Debbie Harry. Liptock's drums are powerful to the point where you can feel it in your chest. This track also draws comparisons to Sonic Youth, but the more frenetic pacing makes it sound fresher and more upbeat than most of Sonic Youth. "Small Town Kid" is like Sonic Youth on Adderall.
Cuffed Up's Double A-Side premieres on Soundcloud today and on streaming starting Wednesday. Also be sure to check out their release show at The Bootleg on August 7th at 830pm. Tickets available here! 21+