Donna Missal – This Time (Album)
Donna Missal has just released her debut album "This Time" and I'm absolutely floored!
I want to start by saying that last week I got the opportunity to see Donna Missal perform her first headlining show at Rough Trade in New York City and it was one of the most incredible shows I've ever seen. Donna's voice is singular & amazing, dynamically shifting between raw power and an intimate gentleness from moment to moment. She was captivating from start to finish, the sold-out crowd completely fixated on her every move and hanging on every word & note she sang. After each song, in the moment of quiet between the audience's applause and what followed, I found myself unable to say anything but an astonished "wow"; absolutely floored.
I mention this because that was my introduction to Donna Missal, jumping around the stage giving everything she got for a show I kept telling my friends felt "historic".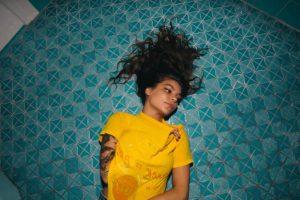 Donna Missal's new record "This Time" brilliantly manages capture the intensity and passion that came with her live set while carefully crafting each song into a mellow listening experience. It's a record you could put on when it gets a bit too late, you're a bit too much in your head, and you just wanna vibe to something that's unwaveringly good.
Songs like "Girl", "Jupiter", and "Keep Lying" slam with a sultry R&B vibe while songs like "Driving", "Thrills", and "This Time" groove along with a smooth blend of nostalgia and power.
Reminiscent of an albums from artists like Rihanna & Ariana Grande, there's a kind of genre versatility and flexibility to this record that's threaded together by Donna's vocals and songwriting. Each song has its own distinctive quality, but the focus on Donna's voice never fades.
This is an artist who deserves the inevitable rise that is on the horizon, so be sure to give this album a thorough listen and catch her live if she's playing in your city!
You can watch her live Vevo DSCVR performance of "Keep Lying" here: