Tessa Rae – Digital Girl
Tessa Rae has just released her new song "Digital Girl". Opening with a chaotic din of voices, birds, digital glitches, and a theremin, the chaos compresses into silence as Tessa croons the first lines of the verse. Her voice is smooth with a sultry undertone, each line cool and confident. Experimental, but with an unwavering pop sensibility, "Digital Girl" highlights a voice that feels fresh, supported by truly unique production.
This an impressive release from Tessa Rae and I'm excited to hear what comes next!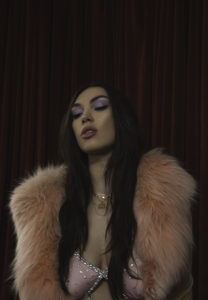 In her words:
"I've had the concept of Digital Girl in my mind for a while now. It started as an Instagram caption to be honest. I would call myself a Digital Girl. To anyone who finds me online, I'm just a girl on a screen or a voice in their speakers. I had this image of a girl trapped in a box, half real, half digital.
I was in a session a few months ago. When my producer left to get some food I got bored, so I picked up his guitar and started writing Digital Girl. When he got back, he loved the concept. I didn't really know where it was gonna go, but it turned into this post apocalyptic video game fantasy, where the digital age had taken over and humanity had failed us. We're losing our innate ability to connect with one another and we wanted this song to portray that." -Tessa Rae
Tessa Rae will be performing on Sept. 25th at Madame Siam, presented by WFNM. RSVP here.